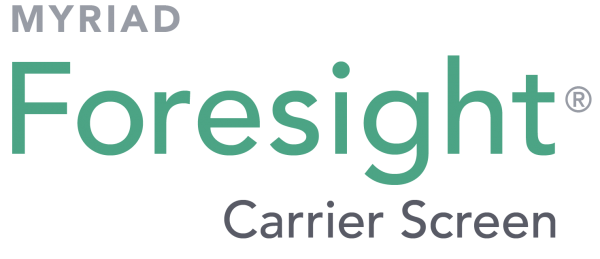 MYRIAD FORESIGHT® CARRIER SCREEN
YOUR PARTNER IN PLANNING
Identify more couples at risk of passing down serious inherited, prevalent, and clinically-actionable conditions.
WHY MYRIAD FORESIGHT
Myriad Women's Health pioneered expanded carrier screening and our Myriad Foresight Carrier Screen is systemically designed to maximize the detection of at-risk couples for a pregnancy affected by inherited conditions. We offer seamless support and services to make it easy to integrate genetic screening into your practice. This means more of your patients will benefit from valuable information that can make a difference in health outcomes for families.
A PANEL WITH A PURPOSE
The goal of carrier screening is to detect couples who are at risk of passing down serious inherited conditions. That's why we've designed the Foresight Carrier Screen to maximize detection rates for the diseases that matter the most.
WE'RE REIMAGINING THE FUTURE OF GENETICS
UNMATCHED AT-RISK COUPLE DETECTION
Have the utmost confidence you aren't missing couples at risk with the highest published at-risk couple detection rate for serious inherited conditions (1 in 22 couples)1
SUPERIOR TECHNOLOGY
Unmatched detection rates for the vast majority of genes on our panel (>99% across ethnicities) means you can trust both positive and negative results.
PRIORITIZING CLINICAL SIGNIFICANCE IN PANEL DESIGN
Our experts evaluated >650 genes based on strict criteria in an effort to produce not simply more, but meaningful clinical information. Thus, we selected 176 genes for the Foresight Carrier Screen.
SEVERITY 
Is this condition mild? Or is it serious (moderate, severe or profound)?
ACTIONABILITY 
Is this information helpful to patients?
PREVALENCE
Is this condition common enough to be of value?
SENSITIVITY
With the best technology available, how well can we identify carriers?
FLEXIBLE PANEL CHOICES FOR PERSONALIZED CARE
Universal carrier screening for cystic fibrosis and spinal muscular atrophy is recommended by American College of Medical Genetics (ACMG) and American College of Obstetricians and Gynecologists. (ACOG).4,5 
30% more pregnancies affected with cystic fibrosis* can be identified using Myriad Women's Health's testing methodology. *when compared to a traditional 23 mutation panel
INCIDENCE OF AFFECTED PREGNANCIES
Approximately 1 in 300 pregnancies are affected by a condition screened by the Myriad Foresight Carrier Screen1
Down Syndrome: 1 in 800 births9
Open Neural Tube Defects: 1 in 1,000 births10
Cystic Fibrosis: 1 in 3,500 births11
FORESIGHT TEST DETAILS
CONDITIONS COVERED
176 genes associated with serious and prevalent inherited conditions
WHO TO SCREEN
Men and women planning to start a family
WHEN TO SCREEN
Before or during pregnancy
SAMPLE TYPE
4 ml blood, or saliva sample
TURNAROUND TIME
Results in 2 weeks on average
METHODOLOGY
Full-exon sequencing with panel-wide deletion calling
REFERENCES:
1.Hogan et al. Validation of an Expanded Carrier Screen that Optimizes Sensitivity via Full-Exon Sequencing and Panel-wide Copy Number Variant Identification. Clinical Chemistry 2018; doi:10.1373/clinchem.2018.286823
2.Beauchamp KA, Muzzey D, Wong KK, et al. Systematic design and comparison of expanded carrier screening panels. Genetics in Medicine 2017; doi:10.1038/gim.2017.69.
3.Haque IS, Lazarin GA, Kang HP, Evans EA, Goldberg JD, Wapner RJ. Modeled Fetal Risk of Genetic Diseases Identified by Expanded Carrier Screening. JAMA. 2016; 316(7):734-742.
4.Prior, Thomas W. 2008. "Carrier Screening for Spinal Muscular Atrophy." Genetics in Medicine: Official Journal of the American College of Medical Genetics 10 (November). The American College of Medical Genetics: 840
Committee Opinion No. 690 Summary: Carrier Screening in the Age of Genomic Medicine." 2017. Obstetrics and Gynecology 129 (3): 595–96.
5.Johansen Taber KA et al., Genet Med 2018; https://doi.org/10.1038/s41436-018-0321-0
6.Global Genes, www.globalgenes.org
7.Condit, et al. 2003. "Attitudinal Barriers to Delivery of Race-Targeted Pharmacogenomics among Informed Lay Persons." Genetics in Medicine: (5): 385–92.
8.de Graaf G, Buckley F, Skotko BG. Estimates of live births, natural losses, and elective terminations with Down syndrome in the United States. Am J Med Genet 2015; 167(4):756-767.
9.Cragan JD, Roberts HE, Edmonds LD, et al. Surveillance for ancephaly and spina bifida and the impact of prenatal diagnosis–United States, 1985-1994. 10.MMWR CDC Surveill Summ 1995 Aug 25; 44(4):1-13.
11.Cystic Fibrosis Foundation Patient registry 2012 annual data report. Bethesda, Maryland. ©2013 Cystic Fibrosis Foundation
For more information please call us or visit www.myriadwomenhealth.com/provider-foresight/
Exclusive Distributor
Gene

Analysis