Identifying Pre-Menopausal Patients Who Do Not Need Chemotherapy
Further Confirmation of the Use of EndoPredict in Young Patients
Recent data from ASCO 2021 reconfirm the reliable long-term prognosis by EndoPredict. In a study of 385 pre-menopausal patients with up to three affected lymph nodes, treated with adjuvant endocrine therapy alone and a median follow-up time of 9.7 years, EndoPredict successfully identified two-thirds of patients with low risk of distant recurrence that could safely forego chemotherapy.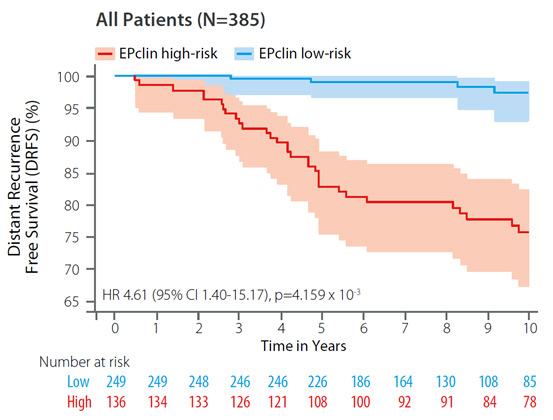 65% of patients were classified as EPclin low-risk
The EPclin low-risk group had a significantly lower rate of distant recurrence (3%) compared to the high-risk group (24%)
EPclin Risk Score was strongly associated with 10-year DRFS regardless of nodal status.
EndoPredict is validated for both post- and pre-menopausal patients. These data highlight the importance of testing pre-menopausal women with ER+, HER2- breast cancer with EndoPredict.